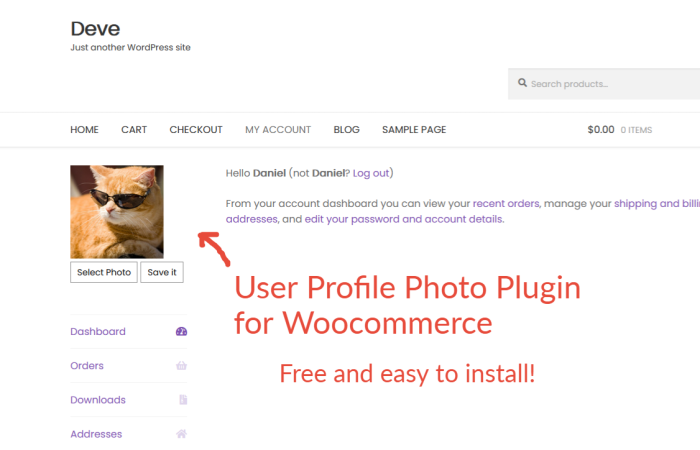 WooCommerce Custom Profile Picture Avatar Plugin
The custom profile picture avatar for WooCommerce is a very requested feature.
I have been receiving many requests about it.
The previous code to copy and paste into the functions.php file was getting very long and complex.
So I decided to make it a plugin, with a settings page included.
This plugin is very light weight and easy to install.
Custom Profile Picture Avatar Plugin Download
Download, install, and activate the WooCommerce custom profile picture avatar plugin:
Custom Profile Picture Avatar Settings
After activation, go to configurations page under General Settings-> Woo Profile Photo, and configure to your liking.
-Profile photo location (4 options: side column, dashoboard, settings page, and side column & settings page)
-Profile photo width and height
-Max upload size
-Allowed MIME types
Custom Profile Picture Avatar Plugin Shortcode (OPTIONAL)
OPTIONAL: Also, you can display the user avatar anywhere you like. Just use the shortcode [fepp_photo].
If you want to display certain width, use parameter "width", in example, [fepp_photo width=400].
The user has to be logged in, otherwise, the default WordPress avatar will be shown.
These are all 3 current parameters accepted: [fepp_photo user_id=1 height=300 width=400]
Note for long time followers
IMPORTANT NOTE: If you used the old code, remove it from the functions.php file before activating the plugin.
If it is your first time here, disregard this note 🙂
Show me some love!
Please leave a comment below about what your thoughts are about the plugin.
I am open to hear all suggestions. Just send me a message or leave a comment below.
If this post helped you show some love with claps and comments, please leave a review, like, follow, share my social medias, that will help me a lot.
Facebook.com/webfor99
Instagram.com/webfor99
YouTube.com
Also you can Buy me Coffee(read support me) to keep up the good work.
Cheers.